Swit FLOW500 SDI & HDMI TX/RX Set
Roll over image to zoom in
Click to open expanded view
1.350,00 € inc. VAT (-15%)
› KUWI 5.1-5.9GHz Wireless Technology
› DFS Comply
› 3GSDI & HDMI®, with 3GSDI loop out
› 500ft/150m (Line-of-Sight) distance
› 32ms stable low latency
› Strong Wall-Cross Performance
› 2-ch SDI/HDMI® audio transmission
› OLED info and channel switching
› Support up to 22 pairs working in one location
› Multicast – 1 transmitter to unlimited receivers
› Wireless protocol & content double encryption
› Reclock and accurate color reproduction
KUWI Wireless Technology
SDI&HDMI® 500ft / 150m (LOS)
FLOW500 wireless system is based on SWIT latest KUWI wireless technology, 5.1-5.9GHz license free bands, DFS comply, supports 3G/HD-SDI and HDMI® (Max 1080p60) to transmit 500 feet (150 meters) Line-of-Sight distance. The system is pure hardware con- nection, plug and play, which is widely used in director monitoring, drone, ropeway camera, steadicam etc.
Input & Output
The Transmitter (Tx) has 2 omni antennas, supports
1x 3G/HD-SDI input
1x 3G/HD-SDI loop output
1x HDMI® 1.3 input
The Receiver (Rx) has 4 omni antennas, supports
2x 3G/HD-SDI output
1x HDMI® 1.3 output
SDI & HDMI® formats:
1080p60, 1080p59.94, 1080p50
1080p23.98, 1080p24; 1080p25, 1080p29.97, 1080p30;
1080psf23.98, 1080psf24
1080i60, 1080i59.94, 1080i50;
720p60, 720p59.94, 720p50
500ft/150m Transmission
Strong Wall-cross Performance
FLOW500 wireless supports 500ft/150m (Line-of-sight) reliable wireless transmission, and featured stronger wall-cross performance due to both RF optimize and image quality optimize, so that will keep video transmis- sion without date lost or crash comparing to regular 5GHz wireless transmitters.
* Supports SDI & HDMI® embedded audio (CH1&2) transmission.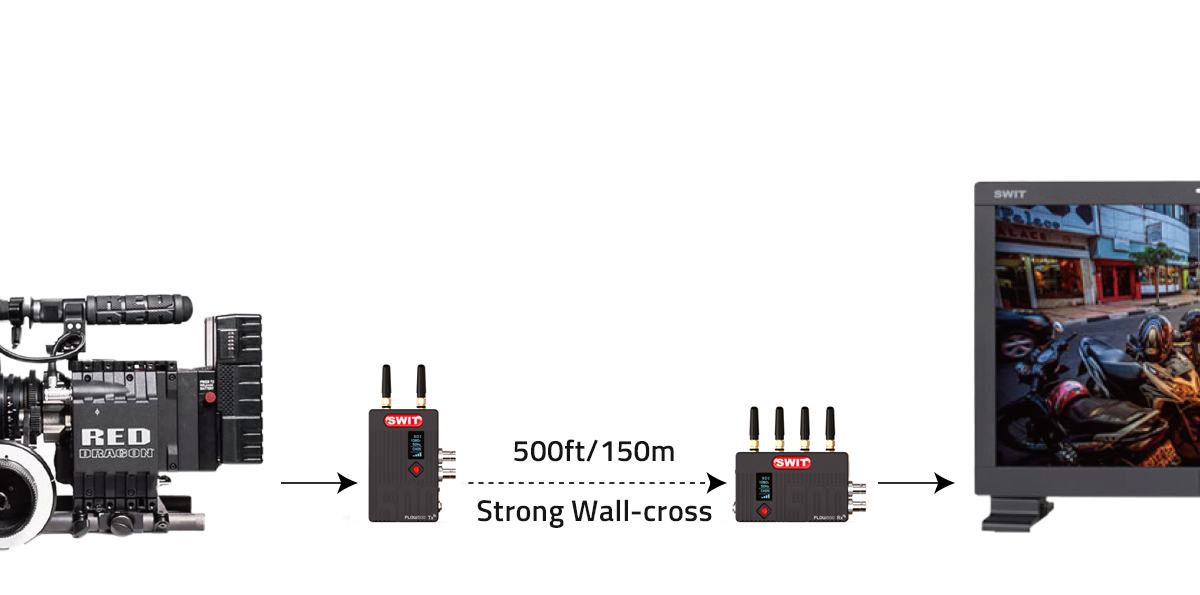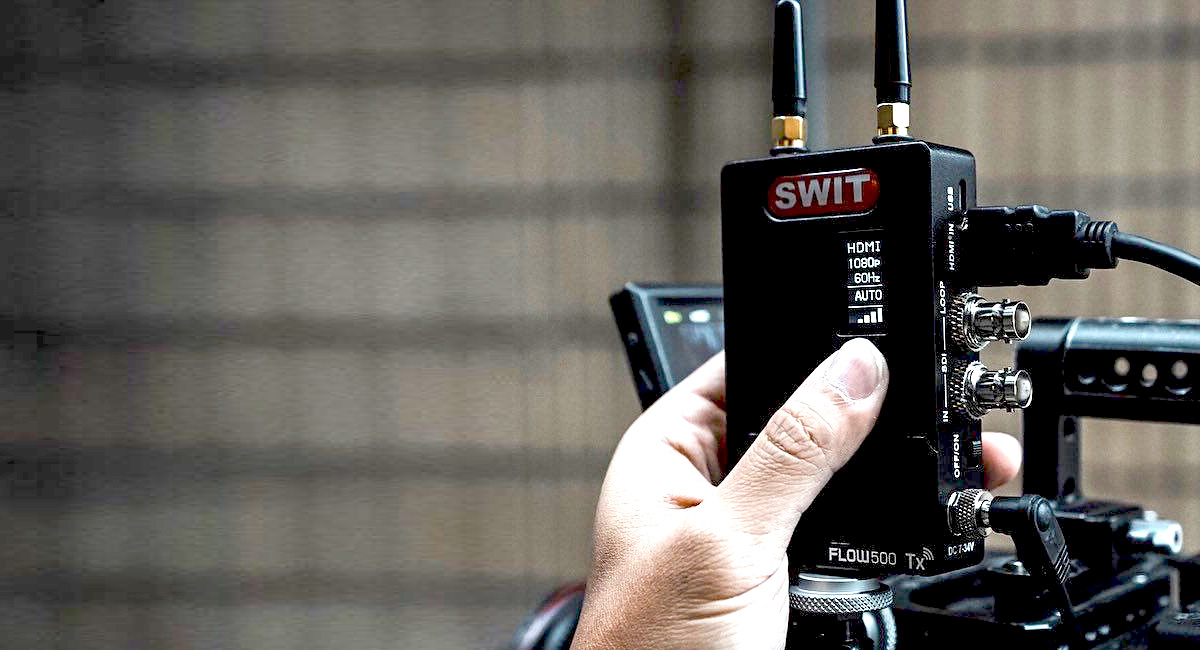 OLED Display & Channel Switch
DFS Comply
The FLOW wireless works under 5.1-5.9GHz, with built-in wireless scanner, and detect wireless condition of all fre- quencies, automatically jump to the best wireless channel to keep reliable connection and transmission, and DFS comply.
You can also switch the wireless channels manually from 7 Non-DFS restricted channels.
Both Tx and Rx are equipped with OLED to display signal format, wireless channel number and signal strength.